Not long ago, Casper Crump showed us through Instagram part of the preparation and trip to Bhutan, as well as his return. He has given us beautiful images of green lands and magical places, as well as of his people. Much of all that, you can still see in his Instagram account. Other things, like his videos or uploaded 24-hour images, have been deleted. Or maybe not?
From here, I'm going to upload some images and videos of his trip to Bhutan, of those "lost." It isn't my intention to upload all the material, but to show what some we've seen and enjoyed. And of course, show that fun part of his personality. Of course, some of those videos will be "lost".  For the rest of material you should visit his Instagram accounts, not only his staff, but you should also look at his account as a photographer. There you'll find both videos and images that complement and complete, what I show here.
Images and videos of the trip to Bhutan held in late September and early October 2017: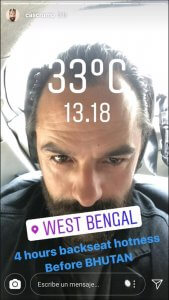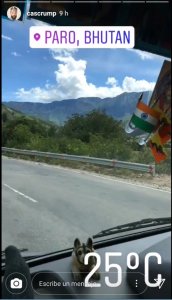 Neemrana Fort Palace.
I take this opportunity to thank him once again for showing such fantastic places as the Neemrana Fort Palace in New Delhi. This time, This time, I will not show any video, because he wasn't alone and I think, his intimacy is important. But some capture of those videos, where there isn't audio and I've absolute control over the capture. I marveled at the place and it was a pleasant surprise to know of places as beautiful as this.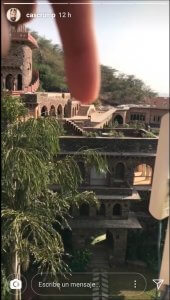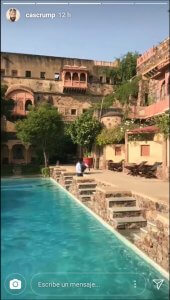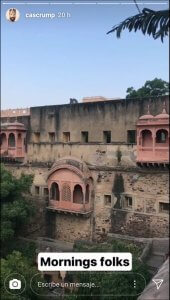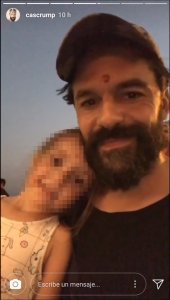 I regret having to censor her daughter's face, but she's a minor and I haven't consent to publish her image. I don't want problems and the truth is that I wanted to show Casper Crump's happy face in that photo and moment.

And here images taken from the website of the Neemrana Fort Palace Hotel.
I don't know if ever, Casper Crump will read these lines, but from here I would like to thank you, once again, share those experiences with others. To me, as a fan of him, I love to see him and know that he's well and happy, especially happy while I enjoy his experiences and help me to know him a little more and better. Thank you.
References External Links:
Important:
Finally, I've created a channel on youtube to be able to host some videos. Specifically the four that are seen on this website. The channel is this: Youtube FanSite Casper Crump Unofficial