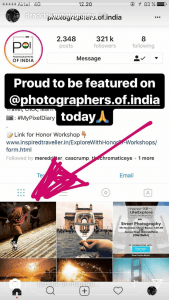 Casper Crump photographer
Maybe some of you already know and for others it's the first news, but the Danish actor is a rookie photographer with a pretty good eye and he really wanted photography. Casper Crump photographer aims to bring a little more to the fan to the actor's hobby.
His work is shared on your Instagram account dedicated to it: @casper_crump_photography
In your account you can find a variety of images taken by the actor and uploaded by himself to the internet. I don't understand photography. But I know when I like something or not and I'veve really seen very good images in his collection. Also today they have published one of their photographs in @photographers.of.india. Casper Crump is really happy with that and he has let us know. I guess he'll feel the same way I do when he likes some of my comments. Not to mention the day he made me touch Heaven when he thanked me for a drawing I made of him through Instagram. But that is another story.
The selected image in concrete and exposed in the account of @photographers.of.india is the next:
It is not the first time that Casper Crump shows us his Instagram account @cascrump his photographer account. From there, he asks us to continue showing her a collage like this:
Anyway, if you do not follow him, I must tell you that you lose something good and that will undoubtedly improve over time. On the other hand I encourage you to at least go through their accounts and @photographers.of.india and at least congratulate him and encourage them to continue with it. We all like to be patted on the back and we need the support of others.
Casper Crump photographer, written by Erawen.


Sources (external links):
@casper_crump_photography (Monk's image and screenshot)
@cascrump (Main image and collage)