Casper Crump has shown through Instagram that he's in Las Palmas de Gran Canaria (Spain) filming a series. He doesn't give data on the subject, but recently he was in Budapest (Hungary) filming that same series. I completely don't know the rest of the details, but I would bet that the series is Danish and I think I would win the bet.

A small mistake of him gaves me that information.
I'm especially happy to have him in Spain. I don't know if he has visited my country before, but I'm sure that its gastronomy and nightlife will captivate him.

Against, it consumes me to have him so close, if 1986 km (1234 miles) can be considered close, and not be able to see it even though I know which hotel he's staying right now on the island. A small mistake of him gaves me that information and no, I'm not going to make it public.

It is more important for me to respect his silence.
Even knowing the place where he is staying, my way of being prevents me from being intrusive in excess. Honestly, I preferred to consult him privately if I went there if I could dedicate myself 5 minutes. But it's a total of 6 hours of flight (round trip), 150 € of tickets, time on the island and go blind, not knowing how he will take it. Well I prefer to ask and that I did for private. Of course, his answer was what awaited me: silence.
I can't criticize him for not telling me anything, as if he had said no. If I put myself in their place and knowing how we are all crazy, better avoid risks. So, I walk around Madrid, biting my nails, knowing where it is and staying still. It is more important for me to respect his silence. Also, now I'm thinking about how crazy it really sounds to travel from here to Gran Canaria to ask for an autograph and take a picture by your side.

I still feel a privileged and a winner.
But deep down I don't feel bad about it. On the contrary, I still feel a privileged and a winner. You see, I didn't have Instagram, until I saw Casper Crump doing Vandal Savage in Arrow and Flash. I must say that he conquered me just seeing him in Arrow and that Flash finished me. It was when I started looking for him online. Seeing that he used Instagram, I installed the application, being the only one I followed for a while. And why do I feel like a winner? Simple. Some time later, he began to follow me also for a drawing of his that I made and that, I felt really proud and flattered to see posted on his wall.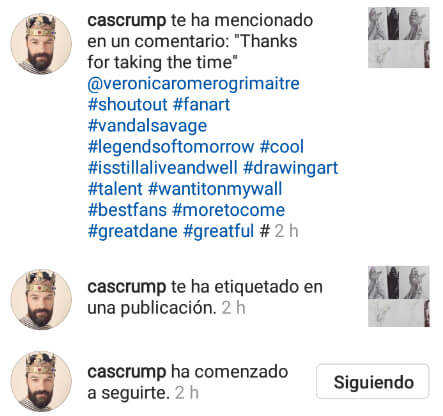 In fact, I just woke up from my nap and I looked at the cell phone, seeing that Casper Crump had interacted with me, but I was still asleep and I left him until I was awake … I thought I had just seen my drawing and I had given to "like". When I didn't see anything in it, I thought I dreamed it … until I found the rest and I swear I was 14 years old at the time and the smile did not fade in days.

For all those who are in Gran Canaria right now and have the good fortune to meet Casper Crump, do me a huge favor: give him a big hug from me …

… but without going over strength. I don't want you to break him so soon.

For more, follow him in Instagram @cascrump
Filming in Gran Canaria by Verónica Romero.