I had a hard time finding him, but at last I located the video Damer (2012). This is a short Danish, starring Casper Crump, under the direction of Christian Eaglecastle (Christian Ørneborg).
The video is in Danish and subtitled in English. I must thank its creator for subtitling it and, although my level of English is not exactly good, at least I know something. I hope the rest of you have less trouble than I do to understand it. The natives will not have problems 😀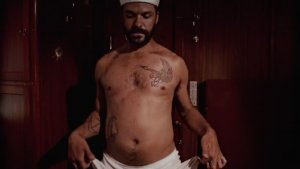 Plot: A sailor's heart breaks a woman and we accompany him in the cabin of the ship where he travels, watching him go from pain and despair to promiscuity until he recovers. I do not recommend it for children under 16 years old.
It has a very spicy and funny humor at the same time and the best thing is that we can see Casper Crump completely naked from the back.
Video Damer (2012)
You can see the full short film here: Damer (Woman)
Your gallery of images here: PHOTOS
Links:
Note:
The short has been taken from the director's account on youtube. From him (Christian Ørneborg) are all copyrights and, if he is not happy to see him here, he can always contact me and I will withdraw him if he so requests.