The Danish actor recently made a travel to Los Angeles (California) for work reasons. He really has not said anything about it but it was clear from the images and videos that the actor uploaded to his Instagram account@cascrump, who was in a city movie studio. I'll not venture to say what they are, because I completely ignore them, but I can leave clear clues about them. It is one of the videos uploaded by the actor to his account the first day he was there.
The second day of staying there, he gave us good morning from the kitchen of his house in Silver Lake. Of course, he took the opportunity to spend the day with his good friend Falk Hentschel (Hawkman in Legends of Tomorrow). You can follow Falk Hentschel here: @falkhentschel
What I like most about these videos is that they see how much they are like others, even though we usually make them gods. (Sorry Savage, I know you think you're a God, but you're wrong.) In this case, you see them in the waiting room of … (guess, I know where they were) … doing the same thing half humanity: be glued to the mobile instead of chatting with whom they have at their side. I do not blame them, it's more … I appreciate it, otherwise I would not have seen or enjoyed it.
Of course, as I did with the trip to Bhutan, I have not uploaded 100% of the material. To see it, it is best to follow Casper Crump on Instagram and see it during the 24 hours that the videos or images last. In addition, there you will be able to see and even images that will hardly be seen on this website. But I'll show you a couple more videos. Here I leave the house where he was staying those days in Los Angeles.
Casper Crump commented on occasion that he was really tired. Of course, in his videos he showed us the reason for his tiredness: he walked, walked and walked … until he left Los Angeles … The video is just as he got it. I have not added any more trek.
What have you missed?
Well, his love for Los Tacos, the one-way trip from New Delhi to LA, two of the three breakfasts in that house, the inside of it … the return home. 27 hours of travel !!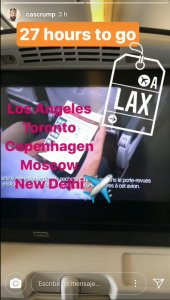 Sources (External Link)
@cascrump (videos and images)