Christmas greeting for all and thanks.
Merry Christmas & Happy New Year. I wish you all the best, lots of health, lots of love and money in abundance. May all your dreams come true … After the typicals things that is said in these dates, we're going to something more personal. I would like to thank all of you for visiting the web. The beginnings are hard and try to raise a site from nothing, about an actor that is quite unknown worldwide, except for those who follow series like "Legends of Tomorrow", "Arrow" or "The Flash". It is very difficult for me to pull the web upwards many times, but I'm still here.
And I'm translating things from a language I don't know completely: Danish. From that to my native: Spanish. And then I have to pass it to a language that I almost don't control: English, in order to reach as many people as possible worldwide. That is why I would like to thank all of you for your visits and congratulate you on these dates from here. And, to my surprise, the web has received visits from countries that I never thought would appear around here.
So, to all of you, thank you for coming round here and, sincerely, I wish you all the best. I hope you are still there for a long time, since it is your visits that keep me fighting to keep the web alive. I hope you spend a Happy Holidays in the company of your relatives and / or loved ones, that you have great health and luck in your lives and that we learn once and for all, that the material does not always give happiness.
My drawings:
For everyone, I created this somewhat atypical greeting with a Vandal Savage making Santa Claus (paper and pencil base, color using a computer):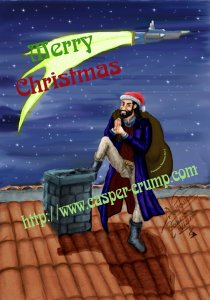 Here I leave the original drawing (pencil and paper base):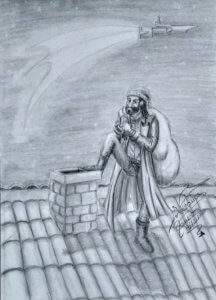 And as a final detail and thanks, I leave you a congratulation of the holidays for each country that has visited this website:
Merry Christmas & Happy New Year

Feliz Navidad y Próspero Año Nuevo

Pozdrevlyayu s prazdnikom Rozhdestva i s Novim Godom

Joyeux Noël et Bonne Année!

聖誕快樂,新年快樂

Froehliche Weihnachten und ein glückliches Neues Jahr!

Vrolijk kerstfeest en een gelukkig nieuwjaar

Veseloho Vam Rizdva i Shchastlyvoho Novoho Roku!

메리 크리스마스와 새해 복 많이 받으세요

Glædelig Jul og godt nytår

Boas Festas e um feliz Ano Novo

Nollaig Shona Dhuit

Shinnen omedeto. Kurisumasu Omedeto

Noeliniz Ve Yeni Yiliniz Kutlu Olsun

Shubh Naya Baras

Craciun fericit si un An Nou fericit!

Kung His Hsin Nien bing Chu Shen Tan

Selamat Hari Natal & Selamat Tahun Baru

Buon Natale e Felice Anno Nuovo

Sretam Bozic. Vesela Nova Godina

Chuc Mung Giang Sinh – Chuc Mung Tan Nien

Winshuyu sa Svyatkami i z Novym godam!

Wesolych Swiat i Szczesliwego Nowego Roku.
For Casper Crump: I wish a lot of international work for see (and understand him) in other rols. And also, the site is linked to his work and yours visits. (I don't say more.) I've seen him doing comedy and he's fantastic. Although I'm and will be an eternal lover of the bad guys: Vandal Savage forever!!!!
Don't forget that if you have any subject, request or idea, you can write to the web or leave a message in contacts. Be happy.
External links:
Feliz Navidad en 70 idiomas (Spanish)
https://translate.google.es/
"Featured image" created by Starline – Freepik.com