It seems that the short Yisra'el directed by Fred Salmon, filmed in 2016 and starring Casper Crump and Fred Salmon, will be released later this year. The new short that opens in December was announced by its director a few days ago on Instagram, publishing the trailer of it and confirmed today, November 22 through the Casper Crump account. The short film has been shot in English in its entirety.
Fred Salmon is a content creator and production service based in Copenhagen. He has several short films and advertisements behind him. Until recently he was working with Macho Films. There exists at least one short film in Danish in which he works with Casper Crump.
This is how director Fred Salmon responded to Instagram when he asked about the release and language of the film:
 It's just a short film. It's in English and will have a digital release sometime in December 🙂
I'm really happy for this news. A few months ago I saw the trailer of the short film and I really wanted to see it. 😉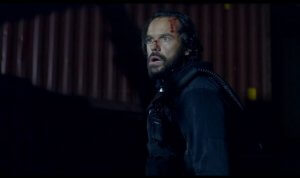 Here you can see the trailer of the short:

YISRA'EL Teaser from Macho Films on Vimeo.
And here a great minute of action from it. In it we can see a delivered Casper Crump fighting hand-to-hand in a very good scene with Fred Salmon.
If you want to see some more work by Fred Salmon, visit his website: https://vimeo.com/fredsalmon
External Links:
@fredsalmon (Videos and information)
@cascrump (information)
Important: The videos are hosted on Instagram and are owned by @fredsalmon